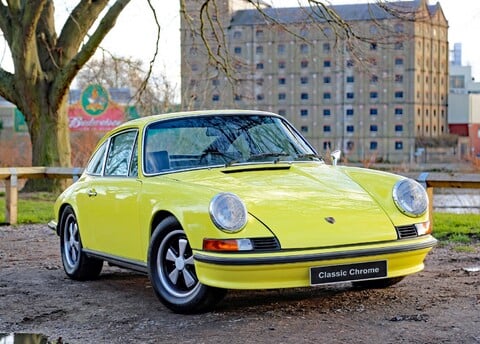 Classic & Sports Car Dealers
est. London 1989
Welcome to Classic Chrome
Established in 1989 on our current site in Mortlake, South West London, we are highly regarded as one of the UK's premier Classic & Sports Car dealers and we pride ourselves on our extensive knowledge and experience of buying and selling Classic & Sports Cars. We are known for our personal and professional approach and we ensure that buying or selling a car through Classic Chrome is a simple and enjoyable experience.
We specialise in some of the very best examples of Alfa Romeo, Aston Martin, Austin Healey, Citroen, Ferrari, Fiat, Jaguar, Lotus, Mercedes-Benz, MG, Morgan, Porsche, Triumph and many more and every car we sell has to meet our exacting requirements in terms of provenance, history and condition and each car is comprehensively prepared and presented to a standard rarely found elsewhere.
With over 30 years of experience comes an undeniable level of passion for all of our cars and we want you to feel this way too. Our reputation speaks for itself and to see what our customers have said about us, please see our excellent 5* Google reviews.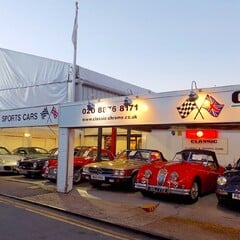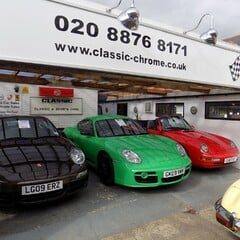 Thanks for selling the our car so quickly. It was a difficult decision after 10 years and I hope the new owner gets as much enjoyment out of it as we did. Kind regards - Michael

Michael

Garry & Keith - From my initial visit to view and test drive the XK120, through to driving it away, I have been so impressed with the professionalism of Classic Chrome. The service you guys provide is so much closer aligned to the traditional ser ... Read More

Definitely the place to go for a classic car! And great service because they treat customers well, whatever your price point. I trust them to sort things out for me - and they do. Jennie  

Car arrived safely on the transporter today and it really does drive beautifully. Brilliant Father's Day drive out and my Dad loves it! Many thanks for making it happen!  Cheers David C ... Read More

The car is amazing, everything I imagined it would be and surprising easy to drive in town, I'm used to an E-Class estate so its not much longer than that. Performance wise its surprisingly docile as well unless you go for it of course!!!! With ... Read More

Thank you for selling me such a wonderful car, it drives like a dream and I absolutely love it! Best Wishes Martyn

Dear Garry - I want to thank you and Keith for the support and guidance you have given me during the search and now acquisition of my new car! I feel very fortunate to have had you both on board in this venture and I am sincerely very thankful for al ... Read More

Garry - Well done for selling my Alfa so quickly. I am delighted with all your help and professionalism. Many thanks Louis

Garry - I am delighted with the sale of my Mercedes and would like to thank you very much for all your hard work. Kind Regards Mike

Thank you very much to you Keith and everyone else at Classic Chrome for everything, I am delighted that you sold my TR5 for a good price. All the best Simon.