About this Austin Mini
The Mini Moke is a small, front-wheel-drive utility and recreational convertible, designed by Sir Alec Issigonis and John Sheppard and conceived and manufactured as a lightweight military vehicle by British Motor Corporation (BMC) and subsequently marketed for civilian use under the Austin, Morris, Leyland, and Moke brands. When launched in 1964 the original price was only £405 and it came with a style money couldn't buy.
BMC's Cowley plant started building Moke's in January 1964 and 14,518 were produced in the UK between 1964 and 1968, but only about 1,500 were sold to UK buyers. The Mini Moke and British weather didn't make the ideal pair. It found greater success across the globe, from the US to the Seychelles and all the way to Australia.
It first gained international recognition when the Beach Boys – at the height of their fame – posed with one during their 1966 international tour and it made its small screen debut in the hit British television series The Prisoner a year later. It got a further bump when it appeared in multiple James Bond films including You Only Live Twice (1967), Live And Let Die (1973), The Spy Who Loved Me (1977) and Moonraker (1979). Interestingly, it was only a Bond car once, in Live and Let Die, when Roger Moore drove a stylish version of the car on the fictitious island of San Monique. In the other movies, it was the car used by the baddies. The San Monique Moke helped popularise the Moke across places like Hawaii and the Caribbean. It would receive another flash of the spotlight years later as well, when the legendary Brigitte Bardot drove her dogs in her own car through the streets of St Tropez in France.
Due to the huge demand for the cars after the Beach Boy's were seen in one, BMC set up a manufacturing plant in Sydney in 1966 to build the car. Around 26,000 Mokes were built in Australia from 1966 until the last one came off the line in late 1981. As the production in Australia was winding down, British Leyland (Mini's owner at the time) moved manufacturing to a subsidiary in Portugal, where about 10,000 Mokes would be produced between 1980 and 1993. In April 1990, British Leyland (by then called Rover Group) sold the "Moke" name to Cagiva, a motorcycle manufacturer in Bologna, Italy. Production continued in Portugal under Cagiva's auspices until 1993, when Cagiva transferred the tooling to their own factory in Varese, Italy with the intention of restarting production there in 1995 — which they never did, although some unfinished cars were assembled in Italy. Cagiva was made to pay a considerably higher price for the Rover-made parts than had BL's Portuguese subsidiary, and the enterprise never made financial sense. Since Cagiva did not own the "Mini" name, the 2071 cars they built were sold simply as "Moke's" and these brought the total production run of Mini Mokes and Moke derivatives to 49,937 during its near 30 year life.
https://www.mini.com/en_MS/home/heritage/the-mini-moke.html
This fabulous Mini Moke was one of the last cars built by Leyland Australia and was shipped directly to Cox & Buckles Spares Ltd (now Moss Europe Ltd) in Richmond, Surrey who were then concessionaires for the Australian Mini Mokes in the UK and it was first registered in their name on 20th December 1982.
They sold the car to its first owner - the owner of Epping Motor Company in Ongar, Essex on 1st January 1983 and he took the car straight to his house in Cap Antibes in the South of France where it was kept for most of his 35 years of ownership before bringing it back to the UK in 2017. The decision was made to sell the car here in the UK and it was subsequently sold to the previous owner in May 2018 for £26,000 with the mileage recorded on the speedometer of 23,240 Kilometer's (ordered from Leyland Australia with a Kilometer Speedo) and there is a letter/contract in the history file confirming this.
The car was finished in White with Black trim and had the standard steel Mini wheels fitted when it was built, but the new owner decided to have it repainted for his wife and the car was totally stripped with everything taken off the car - not that there is much, and it was repainted in Light Green - keeping the roll bars in their original White and the interior was re-trimmed in off-white with black piping. The original wheels were replaced with a new set of 13" Mini Lite Alloy wheels and fitted with new Yokohama 185/60/13 Tyres. In addition, a new wooden Mota-Lita Steering wheel was fitted + a Sony Stereo/CD Player.
Upon completion in late 2018, the car was sent straight to his Villa in Val de Lobo, Portugal, but it was hardly driven at all during the 5 years it was in Portugal and covered no more than 50 Kilometers in total. As a result of this, he sold it in July 2023 to his English neighbour in Portugal who has just brought it back to the UK and given it to us to sell for him.
This car is in "As New" condition throughout and has only covered a genuine and documented 23,300 Kilometers from new and drives beautifully.
Upon sale the car will receive a pre-sales service and new MOT and it will come with our own 6 Month Mechanical Warranty which can be upgraded and extended at additional cost if required.
This car is now over 40 years old and upon sale to the new owner, the taxation class on the V5 Log Book will be changed to 'Historic Vehicle' making it Road Tax exempt, MOT exempt and also ULEZ exempt.
Car on Display @ our showrooms.
NB: Classic Chrome Ltd make every effort to ensure that the information in this advertisement is accurate and all statements as to provenance and condition are given as opinions only. When describing any car that is more than 20 years old, we sometimes have to rely on the car's history file and any information provided by the previous owner(s). This information in passed on in good faith and is therefore not purported to be a statement of fact. Any prospective purchaser must satisfy themselves as to the condition and fitness for use of the vehicle. This does not affect your statutory rights.urther information to follow.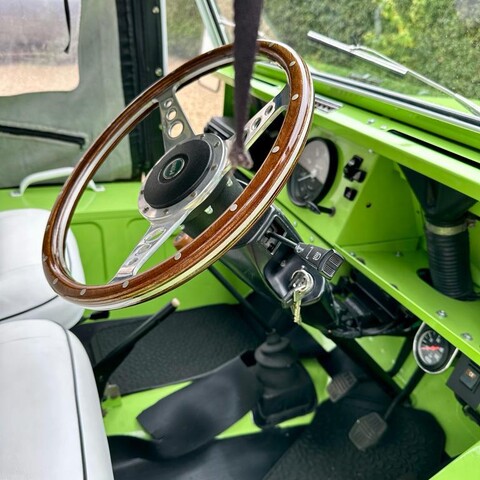 Vehicle Enquiry

Vehicle of interest:
Austin Mini
Email Vehicle

Vehicle of interest:
Austin Mini