About this Volkswagen Beetle
A ONE family owned car from new and in beautifully restored condition and fitted with an uprated 1584cc Engine and reconditioned Gearbox.
The car comes with a Full and comprehensive Service History file from new with all invoices and receipts, its original VW Service Book, Handbook, MOT certificates, Tax Discs, a CD with over 100 photo's of its restoration carried out between 2008-12, its original Green log Book and much more.
The Owners Tale:
The car was bought new from Jack Frost dealership in Hauxton, Cambridge. Driving it home that day, ambling happily along in 3rd gear, John hadn't realised that it had 4 forward gears unlike the Austin 7 Ruby which it had replaced.
Despite being John's pride and joy, there are no early pictures of the car unfortunately, and the VW bug had certainly bitten as there was a string of split screen Devon's and Caravanette's which took a lot of the heavier day to day work. Ferdy (after the designer, Ferdinand Porsche) was definitely for high days and holidays.
John's wife was a milliner by trade, so a smart set of black watch tartan seat covers were made and fitted over the polythene seat protectors which it was delivered to the dealership in. John was an engineer, and loved working on the car - he had an inspection pit in his garage and could do all of the maintenance on his own. It always lived in the garage, and treated to regular doses or waxoyl.
Details are thin through the 70's apart from the service record, and the current owner's first memories are from around 1980, when Ferdy's twin arrived - it was another pearl white 1966 beetle, with pigalle red interior, going by the name of Two-ey.
It had failed it's MOT for a couple of minor points, half a day of work at the most, and John managed to get it for 30 quid. Despite it being in pretty good shape, the half day of work never happened, and it sat on the front lawn for about the next 10 years.
The bright work was swiftly taken off, and stored inside, and various bits were switched back and forth as necessary. Replacement wings were available at the time, but were really poor quality and would practically melt in the rain, so wings were donated from Two-ey to Ferdy when necessary and paint mixed up in the garage and sprayed where necessary.
Another beetle was to follow - a 1973, 1200cc tangerine orange called Three-ey. This was another bargain that was sourced for converting Ferdy from 6 volt to 12 volts, massively improving the headlights at night. That's about all it offered up, and what was left didn't hang around for long.
In 1985, John retired - a special cake made featuring Ferdy on it, and a caravan was bought for touring the UK. John still had access to his work's engineering shop, and fabricated an A frame towing bar from angle iron. It ran the whole length of the car and was bolted through the floorpans at several points. Several trips to Cumbria and Scotland were made, and despite an extra 5hp being squeezed out of the 1966 1300cc engine, it still must have been very very slow to get there!
On a trip to Newcastle, the engine decided that it had taken enough and drop a valve on the A1 near Selby in Yorkshire. That was the end of the journey for that day at least, and terminal for the engine. Meanwhile, Two-ey was looking fairly mossy by now, and attracted callers at the door asking whether it was up for sale. It wasn't, but a friendship was struck up with Tom from a nearby village who was doing up lots of beetles for the emerging California Look custom car scene. In the end, a replacement engine was swapped for Two-ey, and the pair of them fitted the new engine together. Everything went apart from the spare set of 1966 only hubcaps, which are still with car today.
Use got less and less with advancing years, and Ferdy spent more and more time resting in the garage, until John could no longer drive around 1993. By 2008, the garage was in a very poor shape, so it was time for action and that's when the restoration was undertaken by Chris Gilley in Stockport.
This car really in exceptional condition throughout and must be seen and driven to be fully appreciated.
Upon sale the car will receive a pre-sales service and new MOT and it will come with our own 6 Month Mechanical Warranty which can be upgraded and extended at additional cost if required.
Car on Display @ our showrooms.
NB: Classic Chrome Ltd make every effort to ensure that the information in this advertisement is accurate and all statements as to provenance and condition are given as opinions only. When describing any car that is more than 20 years old, we sometimes have to rely on the car's history file and any information provided by the previous owner(s). This information in passed on in good faith and is therefore not purported to be a statement of fact. Any prospective purchaser must satisfy themselves as to the condition and fitness for use of the vehicle. This does not affect your statutory rights.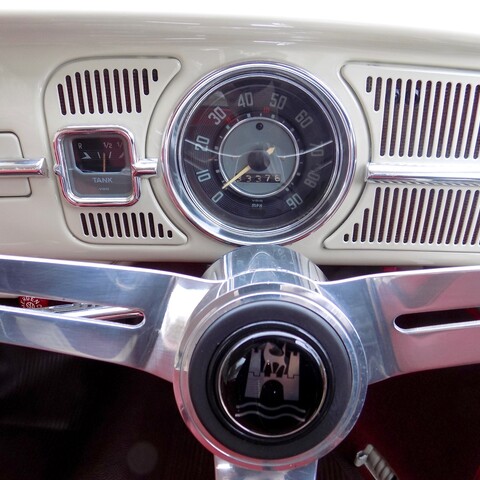 Vehicle Enquiry

Vehicle of interest:
Volkswagen Beetle
Email Vehicle

Vehicle of interest:
Volkswagen Beetle