About this Piaggio Vespa Douglas
The Douglas company of Kingswood in Bristol commenced motorcycle production in 1907, but by 1948 it was effectively bankrupt and went into receivership that year. When on holiday in Italy the same year the Managing Director, Claude McCormack, caught sight of a Vespa and soon planned with Piaggio to build it under licence in Bristol and a Piaggio built machine was on the Douglas stand at the Motorcycle Show at Earls Court in 1949.
Production in Bristol did not start until April 1951and nearly all early Vespas were almost entirely built in Britain with the Douglas Foundry producing engine bearers, clutch covers and cylinder heads and the machine shop - gear clusters, brake drums and more. Most of the pressings were made by Pressed Steel in Birmingham. There was a proper assembly line and a paint shop with infrared drying equipment and amongst the 'bought in' components were items such as saddles, carburettors, tyres and some electrical components which were all British made.
Vespa production ceased in Bristol in 1965 after 126,230 units had been built, but Douglas continued to be the British importer of Vespas until 1982. The Douglas Vespas were the only scooters to be built in really large quantities in Britain, and Douglas themselves took a keen interest in supporting scootering in general.
This 'AS NEW' 1960 Vespa Douglas 125cc was the subject of a full restoration by 'Retrospective Scooters Limited' in 2017 and is simply exceptional throughout.
It was discovered in a back garden of a house where it had been for many years (see photo) and the developer of the house decided that it deserved to be fully restored back to its former glory, so he enlisted the help of Vespa specialist Retrospective Scooters in Walthamstow, London E17 to fully rebuild it.
The restoration was extensive and their invoice details every nut and bolt and part used for the restoration of the scooter with the final invoice coming in at £4,112.65. After completion, the scooter was put into storage and not ridden at all and we have only just been given it to sell on behalf of the owner.
This Bristol built Vespa 125bhp scooter - VIN No: 11910894 was first registered in England on 31st December 1960 with the same numberplate UWV 822 that it retains today and was originally Blue when new, but now finished in Old English White with a Tan single saddle. We have just had had the Vespa MOT'd and serviced by BMG Scooters in East Sheen and it is now ready to ride away!
A fantastic example and without doubt a superb collector's item which will only increase in value over years to come.
On display in our showrooms in Mortlake, South West London.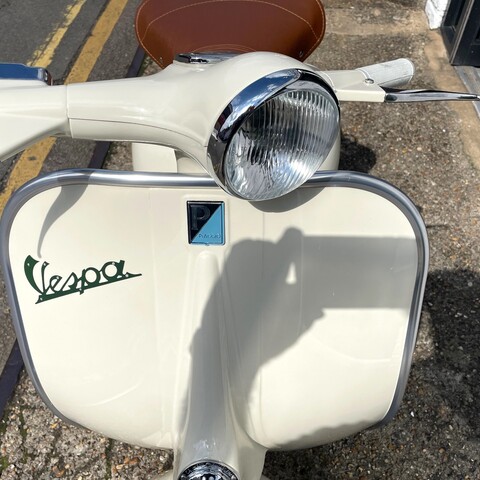 Vehicle Enquiry

Vehicle of interest:
Piaggio Vespa Douglas
Email Vehicle

Vehicle of interest:
Piaggio Vespa Douglas