Technical Data
Performance

Acceleration (0 - 62 MPH)

8.9 secs
About this Daimler SP250
The Daimler SP250 was launched as the 'Daimler Dart' at the New York Motor Show in April 1959 (and unofficially voted as the ugliest car at the show) although preliminary details and pictures first appeared in 'The Motor' on 1st April 1959. Unfortunately, its baptism at the New York Show was overshadowed by the Chrysler Corporation objecting to Daimler's use of the name 'Dart', as Chrysler had previously registered that name for one of its own in-house Dodge models, therefore it became known as the SP250 which was its production type number, but affectionately it has always been called the 'Daimler Dart'.
The Metropolitan Police recognised the 120mph plus capability of the car and they purchased 26 Black Daimler Dart's which were used as 'high speed' chase cars and the mere sight of a black SP250 was more than sufficient to quell an errant speeding car driver and the 'ton-up' biker dashing around the North Circular Road in London near the notorious Ace Café.
The SP250 had a Fibreglass Body mounted on a Ladder frame Chassis and had a 2547cc V8 Engine with Hemispherical Aluminium Cylinder Heads and a 5 main bearing Crankshaft and it produced 140bhp @ 5800 rpm with a Maximum Torque of 155lbs ft. This was mated to a 4 Speed Manual Gearbox with an optional Overdrive or with an Automatic Transmission. Due to the fact that almost 50% of production would be destined for the USA and Canada, a large number of the car's features were optional extras to save on import duties into the United States.
See the Owners Club page for more detailed information on the car: https://daimlersp250dartownersclub.com/history/
According to the Jaguar Daimler Heritage Trust production record, this lovely 'A' Spec Daimler SP250 Dart - Chassis No: 100689 was built on 27th April 1960 and supplied by Daimler dealers Spink Motors in Bournemouth to a Mr Dennis Alsop and first registered on 2nd May 1960 with his private number plate DA 12.
It is finished in its original colour of Rochester Red with a Black vinyl interior and also comes with its original and optional factory Hardtop in Black, Smiths heater, Wire Wheels and Overdrive Gearbox. Mr Alsop kept the car for nearly 50 years and did have a restoration carried out on the car before selling it to Classic Automobiles in Wandsworth, London in 2009, but unfortunately, little is known of the car's history during Mr Alsop's ownership as the early paperwork had been lost. His number plate DA 12 was taken off in 2007 and it was re-registered with period plate 6516 EL.
The car was subsequently sold by Classic Automobiles to a Mr Aldo Salvade in Italy who had a small collection of Classic Cars and there is correspondence in the file from him regarding the car and works carried out by him whilst in his ownership. Works included an engine and gearbox rebuild along with a new clutch, water pump and numerous other parts and there are invoices for all parts in the history file. The Dart spent ten years with Mr Salvade at his home in Tuscany until he sold the car in 2018 to his English neighbour who had the car transported back to his home in Stratford Upon Avon. The car was then re-registered back on its original number plate 6516 EL and was eventually sold in April 2019 to Evoke Classics in London.
They had the car completely repainted in July 2019 along with some other works and sold it to the last owner from Bristol in August 2019. We sold the car to a car collector in 2022, but due to personal reasons, he is having to sell his collection and we have been given the car to sell for him.
The car is in lovely condition and comes with its original tonneau cover & hood cover and its original black factory hard top which was also renovated and repainted to the same standard as the rest of the car. The interior is lovely and it has a brand new set of Chrome Wire Wheels with the correct and period B F Goodrich tyres.
The car really does drive and present very well and it has now covered circa 3,000 miles since the engine and gearbox were rebuilt. It comes with a very good history file containing lots of old invoices, MOT certificates and a number of old Tax Discs, Heritage Trust Production Trace Certificate, photographs of the car completely stripped for repainting in 2019 and its previous ownership history. It is also clear on all HPi records and comes with the HPi certificate.
The SP250 is a very reliable car and they are great fun to drive and perfect for touring around the UK and Europe. They are also a pretty rare site on our roads today as only 2,654 cars were built between 1959 and 1964 before production finished and half of these were exported, so they have started to become very collectible. As an Historic vehicle. it is Road Tax free, MOT exempt and ULEZ free and can be insured very cheaply on a collectors car insurance policy.
Car on display @ our showrooms in Mortlake, SW London.
NB: Classic Chrome Ltd make every effort to ensure that the information in this advertisement is accurate and all statements as to provenance and condition are given as opinions only. When describing any car that is more than 20 years old, we sometimes have to rely on the car's history file and any information provided by the previous owner(s). This information in passed on in good faith and is therefore not purported to be a statement of fact. Any prospective purchaser must satisfy themselves as to the condition and fitness for use of the vehicle. This does not affect your statutory rights.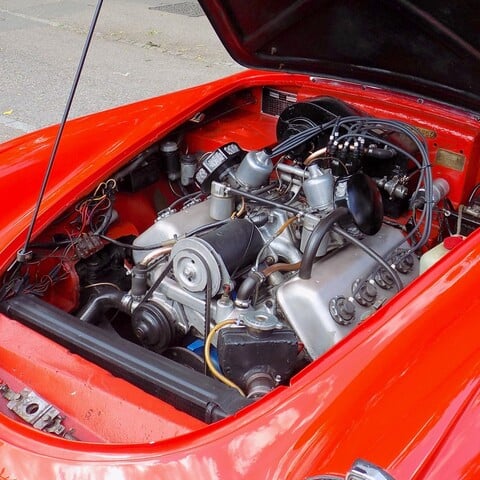 Specification
Leather Mota-Lita Steering Wheel

4 Speed Gearbox with Overdrive

Vehicle Enquiry

Vehicle of interest:
Daimler SP250
Email Vehicle

Vehicle of interest:
Daimler SP250